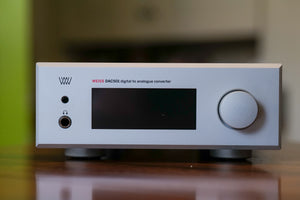 Weiss 501 DAC
The DAC501 / DAC502 are our new state of the art D/A Converters with an unprecedented level of sophistication and versatily.
The DAC502 uses a larger frame but else sports the same features as the DAC501. Except for an an additional 4 pin headphone socket at the back of the unit.

With the DAC50x we are creating a new paradigm for what used to be a black box device. A typical D/A Converter is a "set and forget" device. Not so with the DAC50x. It adds a number of interesting signal processing features and sports a variety of digital inputs. Balanced, unbalanced and headphone outputs are provided.
Weiss Engineering has a 30 year history in D/A Converter design. In that time span we have learned a thing or two about converter design. The DAC50x is the essence of our experiences.

DAC501 and DAC502 are Roon Ready.
---
We Also Recommend